What's a Growth Group?
Growth Groups are small communities who are seeking to engage God's Word and live it out together. These groups are the main place where we GROW as disciples. Groups meet in various locations (mostly people's homes) every other week to build community, study and discuss the Bible and relevant materials about God and the Christian life, pray for one another, and serve together. Yet, these meetings and practices only tell part of the story. Ideally, Growth Groups are communities that are doing life together: being there for each other when one is in need, gathering outside of set group times to enjoy each other's company and serve others, and having meaningful dialogue that overflows into restaurants, porches, and the workplace lunch table. We all need to know other people deeply and be known by them. We all need others to help us really become the person God created us to be. We all need a community that can "speak the truth in love" and "bear one another's burdens." These are the needs and desires FOCUS Groups, infused with God's presence, are intended to fulfill.
---
Foundations
The basics of following Jesus. This group is great for people considering baptism, confirmation, or just a fresh look at the heart of their faith. This will meet every Wednesday at 6:30pm in the Lounge from Sept. 27-Nov. 29 (no group on 11/22) in observance of the holiday.

Monday Growth Group

1st and 2nd Mondays at 7pm, location varies.

This fall, the Monday Growth Group is studying ... together.

They also coordinate the Giving Tree, Manna Bags, Trunk-or-Treat and other missions throughout the year.

​Contact

Susan Korecki

for more info.
---

Something Brewing

Men's Growth Group

1st Fridays, 7pm @ Black Cloister Brewing Co.

This group gathers to share beverages and good conversation on a different topic selected each month.

They also meet one other time during the month for a service project or growth opportunity.

Contact

Terry Serviss

for more info.

---

The Retired Men's Group
The Retired Men's Group meets on the first Thursday of each month at 8:30am for coffee and donuts in the youth room at the church. Please join us. All men are welcome

---

---

Think on These
Women's Growth Group
A Women's Growth Group about How We Think. The group meets every other Thursday (next ones are on 11/2, 11/16, and 11/30) to focus on Paul's encouragements in Philippians about what thoughts fill our minds. Meet in the lounge at 7pm.



---

Elizabethans Women's Group
The Elizabethans meet on the first Monday of the month at 6:30pm in the conference room. All women are welcome to this "small but mighty" fellowship group.



---
---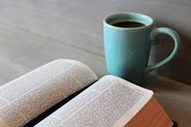 Adult Book Study
Every Sunday morning, 9:15am
This group works through a book together, engaging in conversation each Sunday morning before worship. If you have any questions about the group, contact
the office.
---