Caring and Service for others......

O God you are my God, earnestly I seek you.
Psalm 63:1
---
"Feed my Sheep"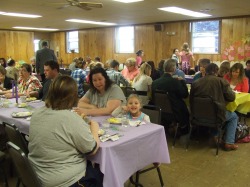 All are welcome at free community dinner on the last Tuesday of each month. This is part of the new community outreach program "Feed My Sheep" at Point Place United Church of Christ. This program will provide a warm, nutritious, free meal to members of our local community enabling our neighbors who may be experiencing financial difficulty as many of us are to feed themselves and their family once a month.
---
---
Helping Hands.....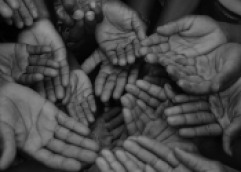 "Helping Hands" - A division of the Mission Board which focuses on actively being the hands and feet of Christ, helping others' to make a difference. Past projects have included rebuilding a porch at member's home, work weekend at Templed Hills (UCC Campground), serving lunch at St. Paul's Community Center, yard clean-up for shut-ins. Always looking for our next project, let us know!
Contact Us at 419-726-7390

---
---
"5 for 5" Church in the UCC

- Our church participates as a "5 for 5" Church in the UCC. This means we have made the commitment over the course of a year to promote and support the following causes: Our Church's Wider Mission - both Basic Support and Special Support, including the four mission offerings (One Great Hour of Sharing, Strengthen the Church, Neighbors in Need, and the Christmas Fund). These missions have helped to show the ways in which our gifts are being used beyond the local church.
---
---
Collections and Giving ....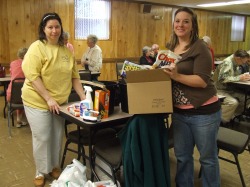 - Ongoing special collection items:
Used eyeglasses - Give the Gift if Sight Program
Pop tabs - Ronald McDonald House
Small/travel size toiletries - local area shelters
Campbell Soup labels / Betty Crocker Box Tops for Education - distributed among local area schools and Crossroad.
Coupons - bring in coupons you want to share or can not use, take coupons you need!
Monthly offerings:
Feed Your Neighbor
- Mustard Seed, our local Feed Your Neighbor site, is always in need of non-perishable food items. Each month we try to have a different theme, or focus, to encourage giving.
Giving Tree
- The Giving Tree table is located in Paterson Hall and features a different collection item(s) each month depending on the need. This has included collection of scarves and gloves, back to school supply items, college care package items, snack items for local vacation Bible school, Operation Christmas Child, donations for our Sunday School to plant flowers in the Spring, etc.
Other programs that we give to, participate in, and pray for.
To learn more check out the links:
CROP Walk www.cropwalkonline.org
Sole4Souls www.giveshoes.org

Blankets+ www.churchworldservice.org/blankets
CWS Kits www.churchworldservice.org/kits

The D.O.V.E. Fund Bandage Brigade www.dovefund.org
(Making crocheted or knitted leprosy bandages for use in Vietman)
---
---