Small Packages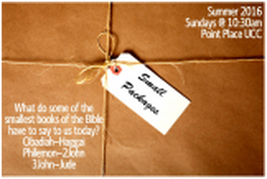 We've all heard the phrase, "Good things come in small packages." Well, this summer, we will look at some of the Bible's "smallest packages": Obadiah, Haggai, Philemon, Jude, 2nd and 3rd John. And we'll mine these texts to see what Good News God has for us in these little books.
---
---
July 31, 2016 "Jude: contending for the faith"

---
"Stump the Pastor"

Pastor Jon chooses 2 prompts from the congregation sight unseen out of a basket and prepares his message during the singing of a hymn. The two prompts were: "Theophanies" and "Why do bad things happen to good people?"
---
June 20, 2016 "Haggai: Build god's temple"

---
June 12, 2016 "Obadiah: on sowing and reaping"
---