​PASTOR - REV. JON KOMPERDA
​

Our Pastor, Jon Komperda began his ministry with us on September 1, 2010. He graduated from Trinity Evangelical Divinity School in Deerfield, IL in 2008. Jon loves spending time with his family: his wife, Lauren and 3 kids--Leah, Asher, and Baden.
JonKomperda@gmail.com
​DIRECTOR OF MUSIC, ORGANIST , CHOIR DIRECTOR - KEVIN KORECKI
Custodian - Don Curtis
| | |
| --- | --- |
| | ​Don has been a member of Point Place UCC for many years. |
OFFICE ADMINISTRATOR - cINDY fRANKLIN
Nursery Attendant - Lauren Robb
Pastor Emeritus - Rev. John J. Rainey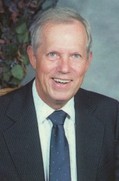 Rev. John J. Rainey was called to Point Place United Church of Christ in 1969 and retired in 1995. In 1996, Rev. Rainey, after his retirement, was designated Pastor Emeritus (retired yet retains his honorary title of his position). He also celebrated his 50th year of ordination.


---
LEadership Team
Our Leadership Team is like the handlebars on a bicycle. They try to make sure the church is headed in the right direction--namely towards living out our
Vision
and covenant together. We gather monthly for meals, study, training and planning.
board of trustees
The Board of Trustees--to go back to the bicycle--is the frame that holds the bike steady. The Trustees are the management of the church and have their eyes on 3 areas: building and grounds, finances, and policy.
3G Teams
​The 3G Teams help bring our Vision to life. Thus, we have the Glorify Team, Grow Team, Glow Team, and Together Team. Each of these teams has an aspect of the Vision that they are focused on, but the specifics of their work are determined by the GIFTS and PASSIONS of the team. The Glorify Team seeks to enhance our worship experience by doing anything from supplementing Sunday morning services to planning their own worship experiences. The Grow Team is about discipleship and may plan a retreat, set up seasonal Growth Groups, or supplement other classes. The Glow Team moves us outward in mission--introducing us to local mission opportunities, coordinating our own events, and more. The Together Team tends to the sense of care and connection of the church. Each team has a point person from the Leadership Team. If you are interested in learning more about getting involved on a 3G Team, you can contact
Tami Wioland
(Glorify),
Lori Winne
(Grow),
Donna Serviss
(Glow), or
Pastor Jon
(Together).
Contact us at 419-726-7390 or
Email