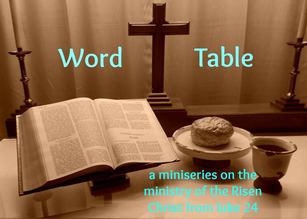 Word and Table
What did the disciples expect from Jesus after the Resurrection? What would we expect of him?
Probably nothing quite as simple as what Jesus did: opened up the Scriptures over meals with his disciples.
How does the Risen Christ's ministry in the 40 days he spent with his disciples after Easter shape the ministry of the Church?

---
Guest Pastor Steve North: May 11, 2014 "Treaty to Table and Back Again" Genesis 15: 12-19,
22:1-14
---
May 4, 2014 "Word and Table" Luke 24: 13-35
---
April 28, 2014 "Word and Table" Acts 1: 1-8