We Believe....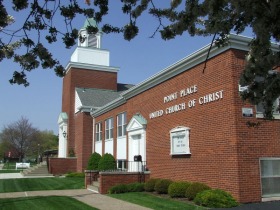 There are a few ways of answering the question "What do we believe?" So scroll down and see which question fits with what you're asking. If you are having trouble finding the answer to your question, just send an email and we'll have someone email or call you back.
What should be on a "what we believe" page? We can't cover it all on the website, and we'd rather not try. We'll try and give you some basics, but we would much rather sit down with you (at church, at home, over coffee or lunch) and talk face-to-face. We don't want to give you a whole bunch of "Christianese" but don't want to be too vague either. Hopefully, this is helpful. If not, we hope you'll give us a chance to go deeper or simpler, whatever you need.
What do we expect of visitors? Nothing. We simply hope you will give us a chance to get to know you when you're ready. Don't worry about what to wear. You'll find people dressed all along the spectrum. We hope we're clear and loving in expressing some of the things we believe, but don't feel like you have to think just like us before you can come and feel welcome. And when the offering plate goes by, you are free either to give or to just let it pass.
What do we believe about God? The message you will hear is that God is real, speaks a message of love to us through the Bible, and wants to have a relationship with you. We believe that if we want to know what God is like, we need look no further than Jesus, who we learn about in the Gospels. We believe that God is way too big for us to have him all figured out, but reveals himself to us as we look around at the world God created, as we hear the Bible's Story, as we open up our minds and hearts to listen, and as we gather together in a community of faith.
What do we believe about Jesus? As you talk to us, you'll find we think pretty highly of Jesus. We think he's more than just a good teacher who lived a long time ago. The message you'll hear is that Jesus was God himself in human form, who showed us how to live the life God created us to live. When he was killed, God showed us that death isn't the end of the story. Jesus came back to life and is alive and at work even now. By his Spirit, Jesus is at work all over the place, but we can see his work especially in changing the lives of his followers, and sending them out to introduce others to him.
What do we believe about the Bible? When we open up the Bible, we expect that God has something important to say to us. The Bible is the story of God, set in the world God created, and about God's relationship with people. We believe it's a true story, and that it explains a whole lot about who we are and what's going on in this world around us. Want to hear more about this story? Click here.
What do we believe about people? Of course, we're all different, but there are some ways we're all alike. The Bible tells us that God made us to be in relationship with him and to care for the creation. You won't be surprised to hear that the Bible also mentions that we really messed things up. The Good News is that God still loves us, and if we give our lives back to God, he can make a beautiful masterpiece out of our broken lives. That's everyone: some good, some bad, and the same life-changing love available to each of us.
What do we believe about church? When we talk about the "Church," we're not just talking about the people who meet in this building on Sundays. We believe that as we become followers of Jesus, we are becoming part of something far bigger than Point Place UCC. We believe the Church is made up of all the people around the world who believe that God's love is expressed to us fully in Jesus, who worship him, and who are called to spread the love of Jesus in word and deed. We are people who get to know God together, express our love and gratitude to him together, and spread the message of Jesus together. God has called us to represent God's love, truth, justice, goodness, and grace to the world.
How do we "do church"? We do whatever we can to express our love for God, learn how to live with Jesus as our King, and help others to hear the message of God's love. Sometimes we worship with older music that we find to be a beautiful expression of our faith. Sometimes we worship with newer music that we find helps us think and express our faith in different ways. Sometimes we pray with words written by others that express our hearts' desires, and other times we want to use our own words. We get together in big groups and small groups inside and outside our building, and try to let the Spirit of Jesus guide us in our whole lives. In other words, we hope to never stop "doing church": at work, at home, out in nature, with family and friends, and of course, when we're together.
What's the UCC? The United Church of Christ is a group of congregations and Christians mostly around the U.S. who want to work together in sharing the love of Jesus. You can find more out about the UCC by clicking here. And if you're interested, click here to see some of the beliefs that leaders in the UCC have agreed are the foundation of our faith. Not everyone in the UCC has the same beliefs about everything, so come talk to someone here to find out more about what we believe and how we are trying to live like Jesus at Point Place UCC.


Call us at 419-726-7390 or
office@pointplaceucc.com
---