Holy Week is called "Holy" for a reason. It is a week set apart (holy) for something very special: the remembrance, experience, and celebration of Jesus' journey into Jerusalem to the Table to the Cross and out of the Tomb. This is the week the world was changed--and is still being changed relative to how closely Jesus' followers identify with and are shaped by the life and example of Jesus.
As Walter Brueggemann writes, the call of the Church is "to practice the memory of Jesus and to let that memory be fully present tense." Below you can see some of the ways we are going to be "practicing the memory" together, including some very special events with other churches and out in the neighborhood.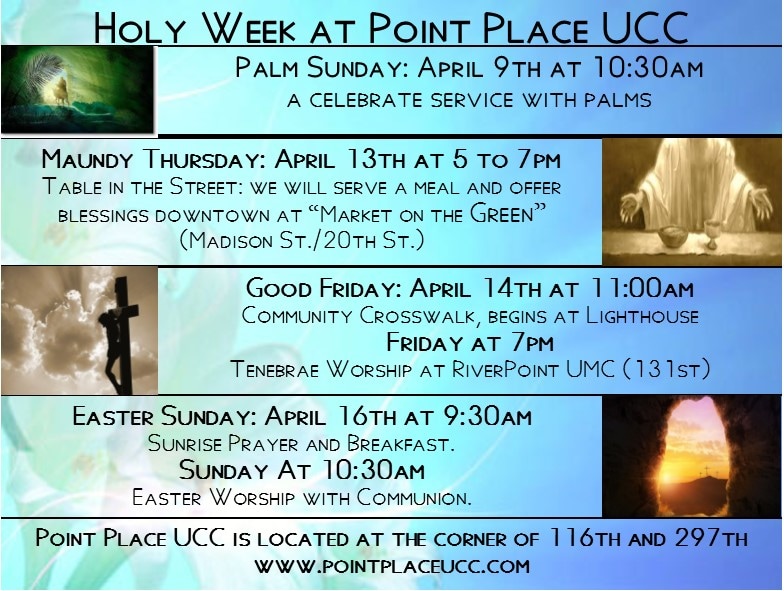 | | |
| --- | --- |
| Palm Sunday | With the full band, we will wave Palms and celebrate the entrance of our King into the fulfillment of his mission. Our "GO" will be about Jesus' invitation to be a part of the story, not just spectators. |
Good Friday

For the 3rd straight year, we will meet at the

Point Place Lighthouse

with sisters and brothers from all the Point/Shoreland churches to begin a CrossWalk that will culminate at

St. John's

. ​

There is parking available at each stop. Wagons, bikes, strollers, etc. are usually present and welcome.
Then, at 7pm, we will join with Northpoint and CrossPoint churches at
RiverPoint
in a service that will help us to contemplate the Cross and all that it means to us. Childcare will be available.